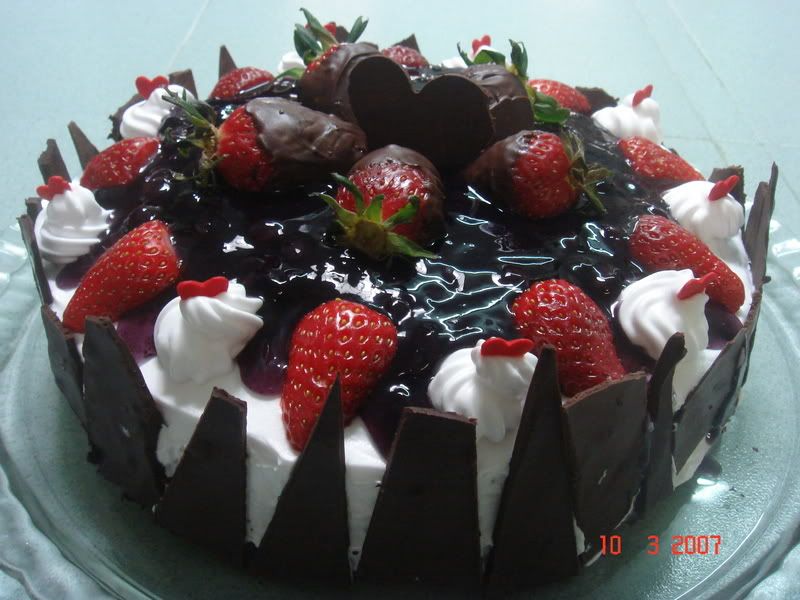 Ini projek lama-lama yang kita terpaksa korek dan punggah sebab merata-rata sangat letak duduknya jadi dah lupa save kat mana..luckily i've found this.
Ini adalah blueberry cheesecake yang saya buat lama dahulu [lihat tarikh pada gambar]
idea nak deko memang tak pernah terlintas langsung. Tiba-tiba bangun pagi tu terus capai whip cream dan putaqqqqq..pastu sessi tenyeh menenyeh ler plakk..maka terhasillah kek yg sebegitu.
Resepi nie saya ambil dari buku Catherine Lau. Ramai bloggers dan forumer pun dah mencubanya. Memang sedap!
Blueberry Cheesecake
source : Catherine Lau Cheesecake Seduction
credit to Catherine Lau
Ingredients :-
Base/
110 gm butter
200 gm digestive biscuits, finely crushed
2 tbsp brown sugar
50 gm almond flakes, toasted
Filling/
500 gm cream cheese
30 gm butter
120 gm castor sugar
lemon zest, grated from 1 lemon
lemon juice, from 1 lemon, strained
30 gm cornflour, sifted
300 ml whipping cream
4 eggs, lighlt beaten
150 gm blueberry filling
Topping/
1 tsp powdered gelatine
30 ml water
150 gm blueberry filling
100 gm whipping cream
Method:-
1. To prepare biscuit base. Melt butter in pan over low heat. Add combine biscuits and sugar and mix well. Fry until fragrant.
2. Press into a greased 23cm springform or false bottomed cake pan with the back of your metal spoon or with your hand.
3. Spread almond flakes on base.
4. Cover cake pan and refrigerate for at least 30 minutes.
Filling
1. Beat cream cheese and butter until smooth. Add sugar, lemon zest and juice, and cornflour. Beat until smooth. Add cream and blend until mixture thickens. Slowly pour in eggs and mix until just combined.
2. Pour half the filling on biscuits base. Carefully spread blueberry filling on filling. Pour remaining filling into cake pan.
3. Place cake pan in water bath. Bake for 1 hour or until filling is set around the edge but slightly soft in the centre.
4. Turn oven off. Leave cake in oven for 30 minutes with the door closed. Remove water bath form oven. Leave cake to cool completely in oven with the door ajar.
5. Cover cake pan. Refrigerate for at least 6 hours.
Topping
1. Sprinkle gelatine on water. Leave for 5 minutes. Stir over low heat until mixture is clear. Stir in blueberry filling. Remove cheesecake from pan. Top with mixture.
2. Whip cream until firm peaks form. Pipe on cake. Chill before serving.